Baby Safety Gates for BBQ and Fireplaces
At Boo Boo Busters, we offer a variety of baby safety gates specifically to protect your child from fireplaces, BBQs, and other heat-related areas. Heat treated so that you CAN BURN FIRES behind the gate, this gate prevents a child from accessing the fireplace, leaving you the option to keep fireplace tools and wood on the hearth. Remember: even with a safety gate, do not burn a fire without a spark arrestor in place. This gate expands to 72 inches. 8" ($39) and 24" ($44) extensions are available to customize to any length. Our heat-treated baby safety gates come only in black and are sold for $240.
Some families prefer a white gate for aesthetics or affordability. Keep in mind that you CAN NOT BURN FIRES with the untreated WHITE GATE. This option is not heat treated but prevents children from accessing a fireplace or hearth. Our white gate is sold for $180.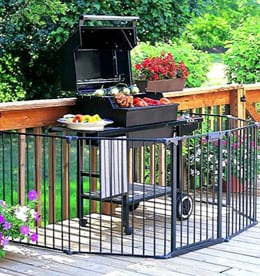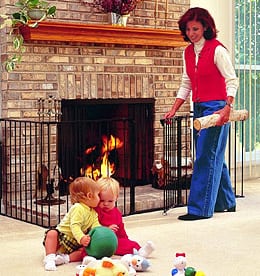 Here are a few in our selection, categorized by your needs. Please click on one of the links for more information: